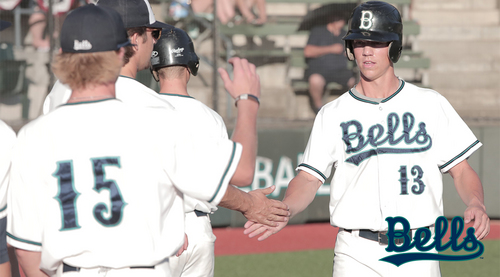 08/11/2018 10:21 PM
Back in June Bellingham clinched a playoff spot, a feat the team has accomplished in four of the last five years. Now the team is vying to play in the championship round with game three against Kelowna set for Sunday night.
It isn't recent success that defines what it takes to be a member of one of the best teams in the West Coast League. History, culture, and excellence encompass the mentality and lifestyle of being part of the Bells' organization.
"We believe being a Bell is the way you go about winning games and being competitive," general manager Stephanie Morrell said. "And for us, there's a way we go about things, there's a way we compete, a way we represent our community, a way that we treat people, and that's what it means to be a Bell."
When recruiting prospective players, coaches, and staff, across the country for each summer, Morrell is not just looking for the flashiest talent. To be a Bell, individuals must embody and embrace the responsibility of representing baseball in Bellingham.
Each year, even before players lace up their cleats in anticipation of running onto Joe Martin Field, Morrell sits her players down and discusses these privileges and duties that are incorporated within the team's culture.
"Early on we talk about history, we bring in guest speakers, we go out of our way to really show them what it means to be a Bell," Morrell said. "That inspires in them the ability to want to buy in."
Since 1973, the city has hosted some of the biggest names in the game, from players like Edgar Martinez to Ken Griffey Jr., and even Mike Sciosca and Pedro Guerrero in the early stages of Bellingham's tenured clubs. Whether labeled Civic or Joe Martin Field, the ballpark off Lakewood and Lincoln Street have hosted some of Major League Baseball's all-time greats.
The park once served as the Class-A affiliate to the Los Angeles Dodgers, Seattle Mariners, and San Francisco Giants. Since 1999, the Bells have been transformed into a collegiate wood bat league. From 1999-2004, the Bells were members of the Pacific International League (PIL) until 2005, when the Bells chose to be one of the founding franchises to create the competitive West Coast League (WCL). Now, the league and the team feature some of the nation's brightest collegiate players each summer.
Morrell brought head coach Bob Miller in from Cuesta College in San Luis Obispo, Calif. to lead players from across the country. Miller's ability to develop players at the California junior college and prepare them for NCAA DI baseball and beyond, was just one of the boxes Morrell was able to check off in her recruitment process.
Miller's drive to groom players on and off the field is one of the prerequisites Morrell needed for the hire and it's something that has led to his early success in his first year within the organization.
"I'm proud every night leaving the field and seeing the effort that our players have put together on a night-to-night basis, whether we win or we lose," Miller said. "We're competing, we're giving our best effort night-in and night-out."
Both Morrell and Miller commented on the team's ability to gel early in the season. The camaraderie and chemistry of the club has been on display all 58 of Bellingham's games played in the span of 66 days.
"I'm not sure how it got started, other than that's kind of been the Bells' way and part of the players embracing being a Bell and that's much more than just being a good player," Miller said.
"It's being a good teammate, being a good person, and that type of thing. They've really embraced that early on," the head coach continued. "And as we've had players come and go through the course of the year, they've been very welcoming and it's been really amazing to see how cohesive this group has been."
Players from different programs in the United States, players who are rivals in the spring, and players from different leagues and stages in their collegiate careers meet in northwest Washington to play as a collective unit. While other college students are enjoying summer vacation, the Bells are volunteering for the Boys and Girls Clubs, doing community service, and being active members within Whatcom County, all while playing in one of the most up-and-coming wood bat summer leagues in the U.S.
"We do some team building, we talk to them about what it means to be a Bell, and really emphasize that it's not just a bunch of guys from Cal, and Stanford, and Mississippi State," Morrell said. "When you're here, you're a Bell and you play for the community and you play for the name on the front of your jersey."
For Miller, he wants to give even more back to the place he has called home since late May. He wants to bring the 2018 West Coast League championship trophy back to Bellingham, a feat that hasn't been accomplished since the 2014 campaign.
He will rely on his team's unified nature to get them there.
"When you have guys that are in it for the same team mission, I think that gives you strength," Miller said. "Whether that shows up on the scoreboard or not, it definitely helps the dynamic in the dugout, the way the pitchers and catchers work together, the way the bench players support your guys on the field."
Game #3 of the Bells' postseason will take place tonight in Bellingham in a winner-take all match up. Game time is set for 6:35 p.m.