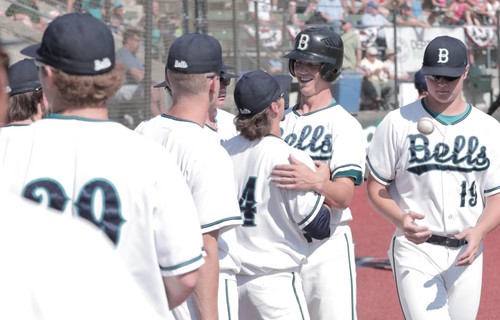 08/05/2018 5:04 PM
The Bells finished their regular season on a winning note, splitting the season and the four-game series with a 4-2 victory.
Due to some pre-game festivities, honoring the host families for Bells' players and staff, the first pitch was delayed in the regular season-finale between Bellingham and Kelowna.
However, Bellingham got off to a quick start.
Guthrie Morrison started things off on the right foot with a line drive single up the middle. An errant throw and an RBI fielder's choice off the bat of Matt McLain gave Bellingham a 1-0 advantage in the bottom of the first.
Dusty Stroup was able to reach first with a one-out single, after some miscommunication in shallow center field. After putting himself in scoring position with a stolen base, Connor Mack was able to get the first extra-base hit of the day, sending Stroup home on a two-out double and extending the lead 2-0.
After dominating the first three innings, Nick Hull ran into his first sign of trouble of the day in the top of the fourth inning.
After hitting the lead off batter with a HBP, Kelowna was able to get into scoring position with a steal and nobody out. A one-out walk and back-to-back hits with two outs tied the ballgame up at two apiece.
Nick Hull was able to escape the inning by getting a groundball to Ernie Yake with the bases loaded.
After Marcos Cuenca's 1-2-3 inning, the Bells were back at it in the bottom of the fifth inning. Connor Mack started it off with a lead off infield single. Guthrie Morrison moved Mack over with a sac-bunt and McLain cashed in once again with a one-out RBI triple to the right field corner.
Bellingham was able to plate its final run of the inning, taking a 4-2 lead, on a head's up play from McLain. After Yake was caught in a pickle, the Bells' second baseman made sure Kelowna was fully invested in Yake before swiping home a run before Yake was tagged out between first and second.
Cuenca kept the game at 4-2 until his eighth inning departure. The Venezuelan native threw three innings of one-hit shutout baseball, allowing just one walk and striking out two as the winning pitcher.
Peter Kemble was able to pickup the six-out save for Bellingham, striking out three and facing the minimum number of batters.
Bellingham's next home game will be on Saturday, August 11 at 6:30 pm. Their opponent in the first round of the 2018 WCL playoffs is still left to be decided.