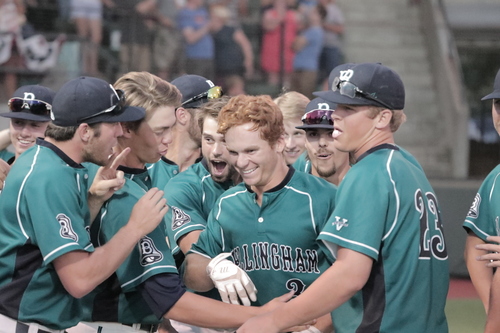 07/24/2018 9:06 PM
You can't have a better 24 hours than Bellingham's Matt McLain has had.
On Monday night, one of the newest Bells torched a walk-off grand slam over the left field wall, bringing an end to a three-game sweep over the Bend Elks. On Tuesday night, McLain once again collected four RBI with one swing of the bat, helping Bellingham to a 6-1 victory.
Going into the bottom of the sixth inning, the two teams were tied 1-1, both runs of the game scored in the first inning.
The bottom of the sixth inning proved to be a prosperous one for the Bells. A single, a hit-by-pitch, and a walk brought Connor Mack to the dish. With the bases loaded, Mack hit one off the end of the bat, but Port Angeles catcher Matthew Boissoneault couldn't quite squeeze the ball tight enough at the play at the plate, scoring Jordan Stoner and giving Bellingham a 2-1 lead.
Then McLain dug in and sent a 3-2 pitch to dead center field to blow the ballgame wide open 6-1.
The Lefties jumped on the scoreboard early after a two-out single from Port Angeles' DH Dalton Harum. Though the earned run was charged to Wesley Moore, the pitching mound may have been responsible for some of the issues in the first.
Following the RBI-single to right, Moore issued a two-out walk, which warranted a mound visit from pitching coach Jim Clem. Clem made a call to the field crew to tend to a wet mound. After an 18-minute delay, the Bells were back in action.
Bellingham quickly jumped right back into the ballgame with one of their two-out rallies. Ernie Yake singled to center field and put himself in scoring position after stealing second base. Matt James added to his team-leading RBI total with a single through the left side of the infield.
Following the difficult mound problems in the first inning, Moore really settled down in his no-decision. The Bells starting pitcher ended his day with four hits, two walks, and seven strikeouts in four innings of work.
Tempers flared in the Bells' half of the fifth inning on a snap-throw to first base. Though only words were exchanged on the benches clearing huddle around first base, Port Angeles manager Darren Westergard was pointed to an early exit.
The Bells rode the momentum of the bench-clearing scuffle into the bottom of the sixth inning, where they would explode.
Not to be overlooked, Bellingham's pitching staff was phenomenal. After fixing the pitching mound in the first inning, the Bells pitching staff quietly shutdown the Lefties in 8.1 innings of three-hit shutout baseball.
The Bells will look to take the series on Wednesday, with game two scheduled for 6:35 pm.