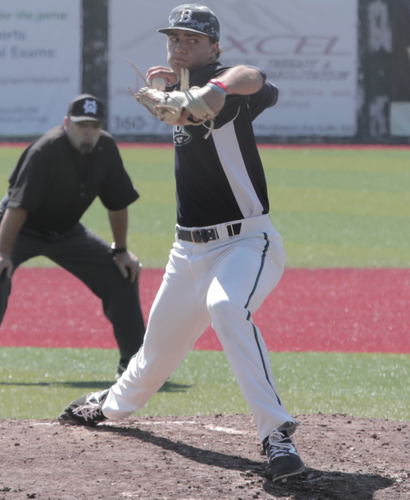 07/22/2018 4:50 PM
With another gem from a Bells starting pitcher and an offensive showcase, Bellingham takes the current home series and the season series away from Bend in a 7-2 victory.
Bellingham wasted little time getting on the scoreboard in Sunday afternoon's win, plating three on the board in the bottom of the first inning.
Following a one-out ground rule double from starting catcher Cody Pasic, WCL All-Star Ernie Yake belted a double of his own which sailed over the head of Bend's center fielder, putting the Bells on the scoreboard.
After Matt James reached on a throwing error by the Elks' third baseman, Dusty Stroup picked up an RBI with a ground-rule double of his own. With runners on second and third, Matt McLain picked up an RBI with a grounder to the shortstop, picking up an RBI and blowing the first inning open 3-0.
Sunday's starter Nick Nastrini (4-0) wouldn't need any more support than that, yet the Bells continued to show their offensive support.
In the bottom of the third inning, James ripped an absolute moon shot to left-center field, caroming off the brand-new Joe Martin Field scoreboard to extend the lead 4-0.
With one out in the bottom of the fourth inning, the Bells found another rally. Landen Kimbro caught Bends' right fielder cheating towards the gap and placed a looper right down the line in right field to get things going with a triple. Jack Machtolf followed suit with an RBI-double and Cody Pasic put an RBI on the stat sheet with a sac-fly to centerfield.
With the game well out of reach, head coach Bob Miller brought an end to Nastrini's day with seven strikeouts, allowing just four hits, and not issuing a single walk in his five innings of work.
Bend was finally able to get onto the board for the first time in the series on a head's up play from Jarred Seamons. With just one away, Bend's second baseman swiped third and would later score on a sacrifice fly in the top of the sixth inning.
The Bells responded in the bottom of the seventh inning with a one-out RBI single from Matt McLain, plating James after his leadoff double, extending the lead to 7-1.
The Elks would once again cut the lead to five, after a stolen base and a wild pitch set up a one-out ground out to plate their final run of the game 7-2.
Justin Armbruester was able to come into the game and preserve the contest, collecting two strikeouts and retiring all three batters he faced.
Bellingham will search for the sweep tomorrow night in the final meeting between the Elks and the Bells. First pitch is scheduled for 6:35 pm.