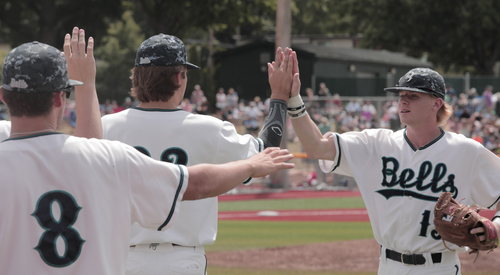 07/04/2018 2:03 PM
Victoria knows how to run the bases. The league leader in stolen bases caused multiple problems for Bellingham in a 3-2 loss on Independence Day.
Bellingham's pitching staff was charged with three runs, all of which were unearned on a day where the Bells recorded three errors in the field.
It all began after Nick Hull's day ended earlier than he would have liked. The right hander looked dominant in 3.2 innings of work but was pulled in the top of the fourth inning.
After collecting his sixth strikeout of the contest, Hull (0-1) appeared to have done something to his throwing hand on a pitch that hit Victoria batter Jeddediah Fagg. Hull lost some pop to his low-90s fastball and a single ensued from the HarbourCats. Bob Miller didn't want to risk further injury and singled to the bullpen.
A tough defensive inning for catcher Cole Joy started with Trevor DeLaite coming in for the injured Hull. Joy tried to catch Fagg napping at second base but ended up zipping a ball into the outfield to advance both runners. A passed ball and another wild throw would score the first two runs of the game, giving the HarbourCats a 2-0 lead.
The Bells' fielding woes continued in the top of the fifth inning when the HarbourCats were again moving around on the base paths. On an attempt to get the runner trying to swipe third, Joy and Needham couldn't connect on a ball that squirted out to shallow left field to score another run, extending Victoria's lead to 3-0.
Offensively, Bellingham was able to put together a few threats over the course of the game but couldn't get on the board until the bottom of the seventh inning.
Zach Needham led off the inning with a shot down the right field line for a lead off single. A groundout and a strikeout allowed Grant Holman to single home Needham.
In a similar top of the ninth inning, Needham led the inning off with a lead off double, and Holman once again collected the two-out RBI. However, the Bells couldn't find a way to score the tall right hander.
A play that might have flipped the script on the day was when Ernie Yake nearly gave the Bells an early lead. In the top of the third inning Dustin Miller, Victoria's right fielder, robbed Yake from what could have been two-run homer.
The Bells outhit the visiting HarbourCats, but Victoria's play out in the field proved to be the difference maker on the Fourth of July.
Bellingham gets to stay home for a few more days as the Corvallis Knights will cross the Washington State border for a pair of games.
First pitch on Thursday is scheduled for 6:35 pm.