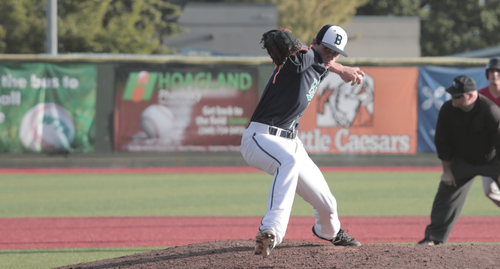 07/02/2018 8:54 PM
To welcome the visiting Victoria HarbourCats, fans at Joe Martin Field stood for both the United States and Canadian National Anthem. Little did Bellingham faithful know, they were in store for a pitcher's duel between two tall lefty Canadian natives.
However, the late inning drama on Star Wars Night may have overshadowed the gem of games recorded by Monday night's starters as the Bells dropped the ballgame 4-3 in 11 innings.
Cody Pasic gave Bellingham a late 1-0 lead with a single to right field in the top of the seventh inning. Pasic would then get caught in a pickle between first and second but hung in there just long enough to allow Connor Mack to score.
Normally, two runs would be plenty of insurance for the Bellingham relievers, especially at home. However, in the bottom of the ninth, Johnny Wiltfang struggled with his command. After walking the tying run aboard, head coach Bob Miller wanted a lefty vs. lefty matchup, bringing in Chris Micheles.
After a stolen base from the HarbourCats, Micheles was within one strike of ending the ball game. However, a two-out, two-strike base hit off the bat of Dustin Demeter brought home both runners to tie the game in the bottom of the ninth.
Justin Armbruester came into the ballgame with a flawless 10th inning. However, for the first time all season, Armbruester ran into some real trouble in the top of the 11th. After two consecutive base hits, Armbruester walked the bases loaded in anticipation of a play at the plate.
After a strikeout, the Bells moved to double play depth and Armbruester got the groundball he was looking for. However, that ball found a hole and the HarbourCats were able to take the lead 4-2 in the bottom of the 11th inning.
The Bells made a late run of their own, bringing some life back into the stands of Joe Martin Field. Following two consecutive walks, Bellingham had the tying run on base.
The Bells could only strike once in the 11th inning on a Connor Mack sacrifice fly, that would bring the game to its final of 4-3.
Fox ended his day for Victoria with five innings of shutout baseball, only allowing three hits without hitting or walking a single batter. Moore matched his Canadian counterpart with five innings of no-hit baseball, but a leadoff single ended the bid.
In fact, Victoria wouldn't get its second base hit of the entire game until Demeters game-tying two-RBI single in the bottom of the ninth.
The Bells will have a chance to even the series tomorrow, as first pitch is scheduled for 6:35 pm.