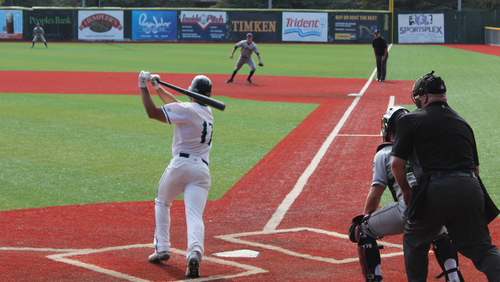 06/17/2018 5:03 PM
Bells fans meandered to Joe Martin Field on Sunday afternoon, many wearing "World's Best Dad" shirts, and smiles all around.
The trend continued from the honorary first pitch, conducted by four Bellingham player's fathers, all the way through Taylor Davis' three-out save to sweep the Portland Pickles 3-2 on Father's Day.
The sweep gave Bellingham (10-5) a five-game win-streak, and more importantly the best overall record in the West Coast League.
An uncharacteristic sighting at home, the Bells were able to jump on the scoreboard early with a three-run bottom of the second inning. In the bottom half of the inning, Dusty Stroup blooped a two-out, 2-0 pitch, to shallow left field as Grant Holman ran across home plate for the first run.
The two-out rally wasn't anywhere close to being done for Bellingham. After an error by Pickles' third baseman Daniel Lopez, Cody Pasic smashed a bases clearing double in left/centerfield gap as the Bells jumped out to a 3-0 lead.
Portland (9-6) didn't wait too long to answer the Bells. In the top of the fourth inning, the Pickles were able to put together their first serious rally of the game. After two leadoff singles, Smith got the groundball he was searching for, but only had a play to first, moving both leadoff Pickles into scoring position.
The leadoff baserunners would eventually take advantage of their position, scoring on an RBI single off the bat of Joey Cooper. Brody Barnum was able to add to the run total with a dribbler to Bells' shortstop Ernie Yake, who only had a play at first, as Portland quickly shrank the margin to 3-2.
Smith (2-0) eventually worked out of the top of the fourth inning, which proved to be the only real threat that Smith would have to work out of. The tall righty ended his day with 5.2 innings pitched, two earned runs, no walks, two strikeouts, and the win.
The Bells relief effort was dominant, as expected. Three relief pitchers came in for 3.1 innings of three-hit shutout ball highlighted by Davis shutting the door in his 1-2-3 ninth inning.
Michael Newstrom (1-3) only allowed one earned run in the game, but was still tabbed with the loss.
The Bells will get the day off on Monday as they travel to Longview Wash. to take on the Colowitz Bears in the three-game matchup on Tuesday.
First pitch is scheduled at 6:35 pm at Story Field June 19.