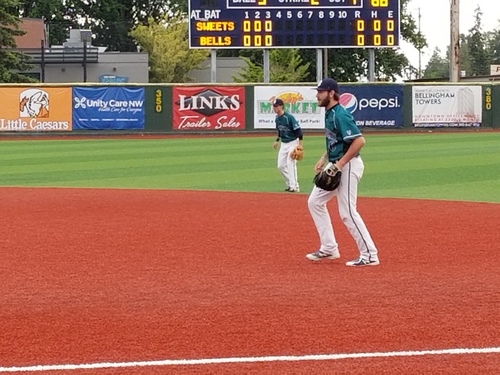 06/05/2018 9:06 PM
If you came out to Joe Martin Field on Tuesday night looking for a pitcher's duel, you got your money's worth on the first $2 Tuesday of the season.
Through four innings, the bustling crowd in Bellingham watched both starting pitchers glide through opposing lineups, which then featured a dominant bullpen effort in the 1-0 victory over Walla Walla (1-3).
Wesley Moore took the hill for the Bells and his stuff was electric. The sophomore out of Cal State Northridge recorded nine strikeouts in his four-inning start, walking three, and not allowing a single hit.
"His stuff wasn't overpowering. He's got the ability to be that way, but he threw a lot of pitches with movement," head coach Bob Miller said. "He's got a lot of deception in his delivery and it's hard to see the ball."
Moore wasn't the only pitcher who had his stuff working on Tuesday, Walla Walla starter Zach Penrod was unblemished in the hit category as well, through four innings pitched. Both Moore (71) and Penrod (84) met their pitch count before the start of the fifth inning with no-hitters still intact.
Travis Williams preserved the bells no-hitter through five, but then it was time for the Bells to break into the hit column.
After facing Penrod, a pitcher throwing in the 90-mph range, Connor Mack quickly had to adjust to Patrick Collins who was throwing a dancing knuckleball, consistently staying in the 60-mph range.
Down 0-2, Mack drove a shot through the right-center gap and rolled to the wall. As is a dangerous biproduct of the knuckle ball, a passed ball set up Guthrie Morrison to drive in the sole run of the game. A dribbling ground ball off the bat of Morrison in between short and third was the deciding run.
"It was big for our club, obviously. It was the only run of the game," Miller said of Mack breaking up the no-hitter. "I think it was even bigger for him. He's a young man with a lot of upside and a lot of potential."
The Bells continued the no-hit bid through two outs in the bottom of the fifth until finally the Sweets got into the hit column on a two-out double from Jordan Hovey.
Williams (1-0) worked out of the inning and was in line for the win after 3.1 innings pitched, allowing both Walla Walla hits, and walking one.
Trevor DeLaite was able to record the first save of the season for the Bells and continue their three-game win streak.
Tomorrow, the Bells (3-1) will look to get its first series sweep of the season in the series finale. First pitch is scheduled for 6:30 pm.