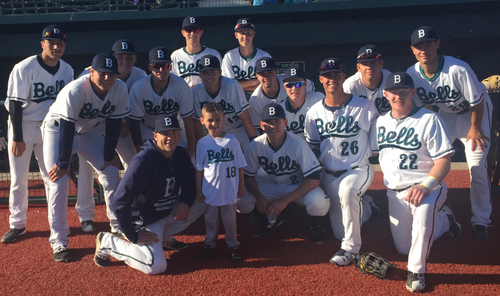 06/04/2018 8:31 PM
The Bells wasted little time jumping onto its brand-new scoreboard at Joe Martin Field on Monday night in a 5 – 0 win its 2018 home opener.
Bells' starting pitcher Will Smith (1-0), the sophomore from Edmond's College would have been content with just the hometown half of the first.
It took the Walla Walla Sweets (1-3) three full innings to get a hit off the tall righty. Smith was able to finish six innings of three-hit ball without allowing a single run.
"I really felt like I was controlling the zone," Smith said. "I was keeping the ball down in the zone and really made an adjustment with coach (Jim) Clem about really staying on top of the ball."
It wasn't just Smith who dominated the Sweets on Monday night's home opener, the entire bullpen was able to preserve the shutout as the bullpen didn't allow a single hit for the remainder of the contest.
"That's why they're here. It's awesome to watch them work," Smith said. "They're always ready for whatever situation. It's always great to see them shut the door."
While the pitching was dominant, its leadoff man has been making plenty of noise since joining Bellingham just days ago. Just after being notified that Stoner was crowned WCL Player of the Week, Stoner tallied another 3-hit game.
After leading the game off with two infield singles in two innings, the left fielder quickly turned a two out walk into 4-0 deficit after he hit a two-run homer over the left-centerfield fence.
"That guy's just not getting out. He's ridiculous," Smith said. "He's on fire. It's just ridiculous. I hope he keeps it going because he's having a great year."
The Bells weren't done adding insurance runs after Will McGillis just missed joining Stoner in the homerun club, after smacking one off the base of the wall to add the final run in the bottom of the eighth inning.
After taking game one in the three-game series, Bellingham will turn to tomorrow's contest in search of its first series win. The Bells were deprived of its rubber-match contest was rained out on Sunday night.
First pitch is scheduled for 6:35 pm at Joe Martin Field.